El PrimiModernismo
web site: oil paintings by Noriam Agudelo de Mejia
The York Square Gallery is proud to present an exhibition of artworks by the founder of the movement of Primitive Modernism in Colombia, South America.
Born in Pereira, and graduating in 1975 from her studies in Plastic Arts at the Popular Institute of Culture in Cali, Norey Agudelo first introduced her concept to the public art world of Colombia in 1980 at an exhibition at the Government Hall of Valle in Cali. The idea is based on her observation of the motives and visionary aspects in Pre-Colombian art, which she united with the styles of Universal Modernism and the principles of the movement for Human Activation Through History.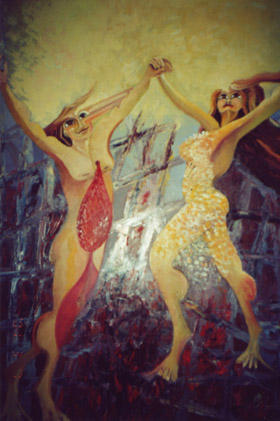 "Wake of the Spiritual Life" oil on canvas, 24 x 30"
Given the appellation, "PrimiModerismo" by the Colombian art community and press, Ms. Agudelo was subsequently invited to participate in many important exhibitions there, and in 1994 was invited by the United Nations Headquarters in New York City to exhibit her mural size oil painting "CHANGE THROUGH PEACE," for the celebration called "Hands Shake Around the World," attended by fifty ambassadors from many countries.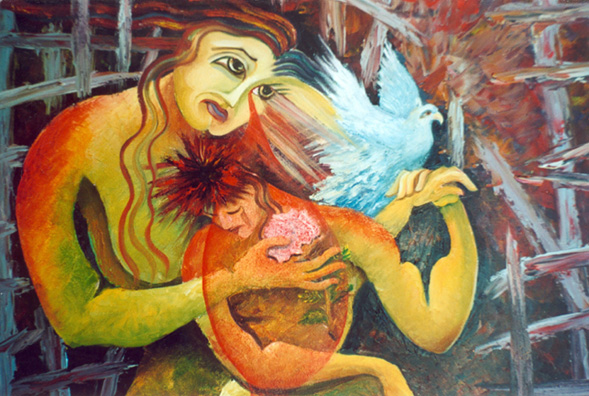 "Flight of the Lambs, September 11" (detail) oil on canvas, 24 x 30"
Her series of large oil paintings, inspired by the September 11 attacks, were first displayed at the West Haven City Hall in November, 2001: "Flight of the Lambs," "World Wide Panorama," and "Wake Up from the Spiritual Life," are figurative abstracts depicting broken buildings with naked spirits in a primal dance, or in pairs comforting one anotherís injuries, showing expressions of anguish, hope, or remembrance. In each painting, the blending of bright colors with tonal ciarascuro convey the subtlety and immensity of this unprecedented tragedy in its human scale and meaning.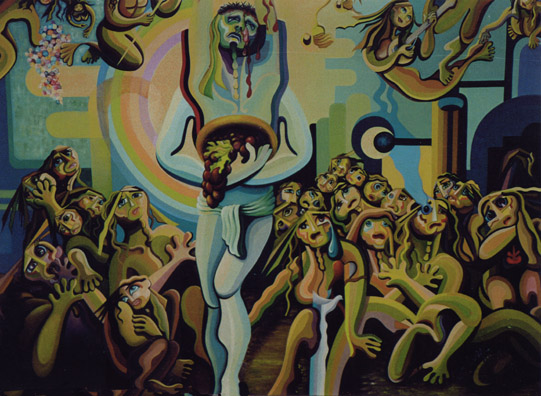 "The Human Rescue" mural, oil on canvas, 62 x 48"
In Cali, before coming to the US in 2001, Ms. Agudelo was Department Director of the Plastic Arts School, and art teacher at Alfredo Vasquez Cobo College and at Colombo Britanico College. Her artworks have been exhibited widely in Cali, Bogata, and Pereira, and internationally in Mino, Japan, and in New Jersey museums in Bergen, Passaic, and Patterson. She has donated large murals to social causes, and written her research on civic expressions or art, and the appropriation of public spaces, and received many certificates of honor and achievement.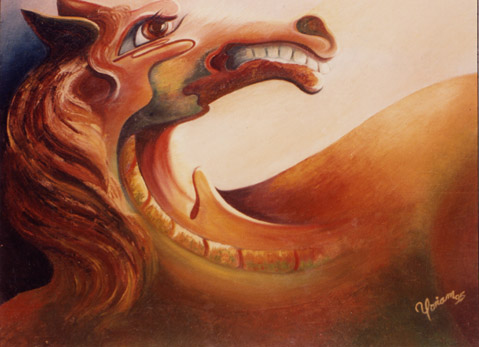 "The Feeling of Nobility," oil on canvas, 24 x 30"
Reception : Sunday, April 7, 2002 4-6 PM

Exhibition: March 23 - April 24, 2002
The York Square Cinema Gallery
61 Broadway, New Haven, CT